DIY Tiny SIP House, Free Plans and SIP Quote
|
We've been watching the tiny house phenomenon for a while now and have always thought our Greenix Panels would be a great fit. One of the main reasons is the Greenix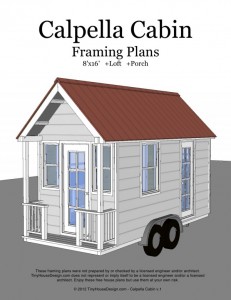 Panel installation. To assemble a DIY Tiny SIP House, most of these plans would require only a few panels, floor, roof and walls. Just using SIPs for the floor system alone would save a Do-it-yourselfer days of labor. In most cases one panel would fit as the floor – Done! How great is that. Similar with walls in that they would all be precut to the tiny house plan including window and door openings. And because we make a typical 8'x8′ SIP wall, you'd only need one panel (as noticed) on many tiny house plans.
More DIY Tiny SIP House benefits?
Secondly, other inherent benefits are higher strength, super insulation factors, electrical conduit and electrical boxes are foamed inside the panels, plus a great fire rating on our polyurethane foam core making Greenix Panels a great fit for a DIY Tiny SIP House. Here's what one Tiny House builder using SIPs had to say:
"The panels allow someone without the technical knowledge of framing a house to erect a structure that is stronger and better insulated in a weekend. I hope you are inspired to create your own tiny house and that you now have an example of a different construction method to explore." – Art (builder/owner), Finished SIP House
I've included this link  for Tiny House plans. If you plan to build one, ask us for a free SIP quote before you decide to build.  In addition, we're here to answer any questions about SIPs and our Greenix Panels. If you have a DIY Tiny SIP House, let us know and we'll post it here on our blog!